Acting Out of Nothingness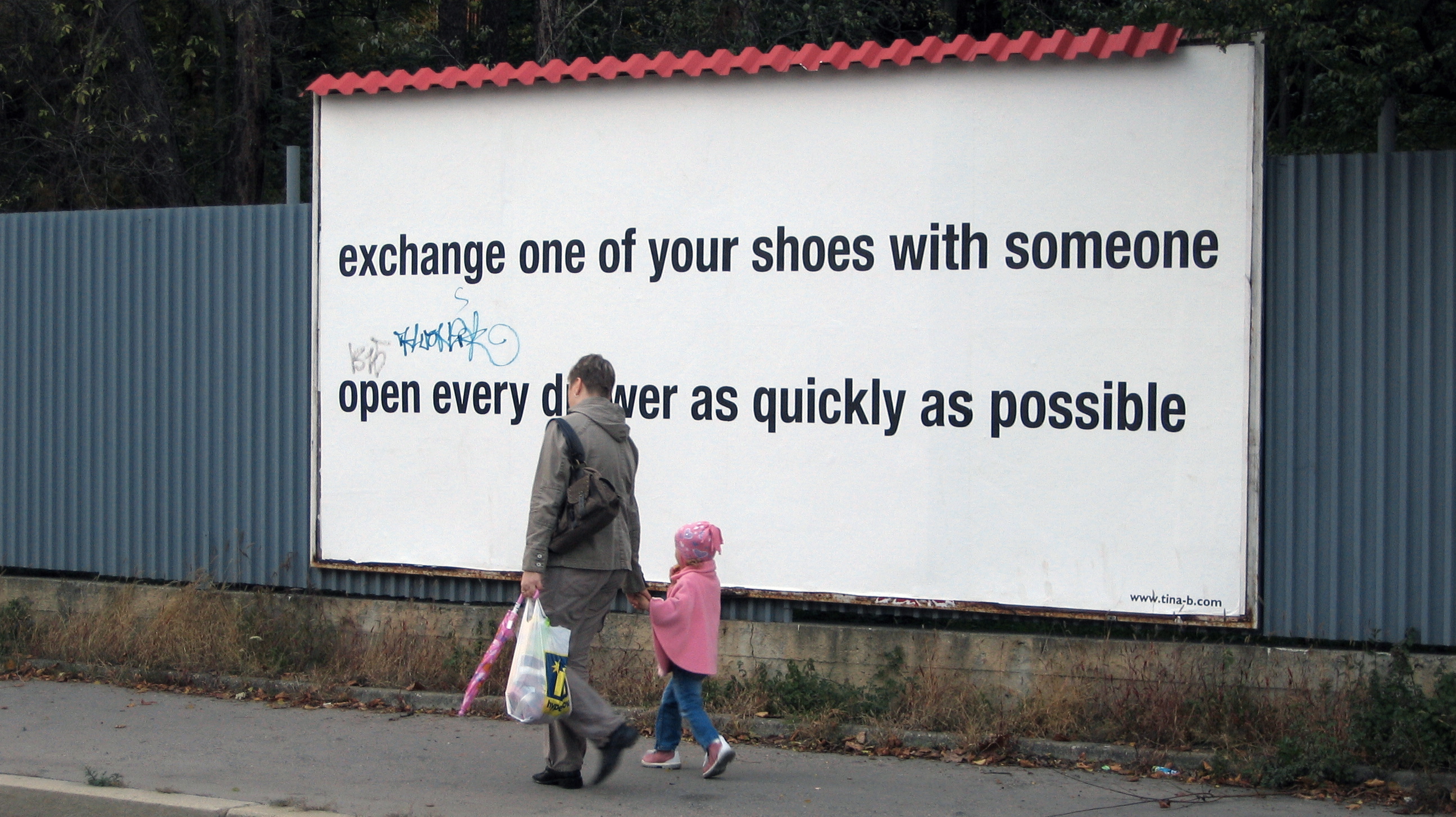 17 September – 20 October 2013
Daiwa Foundation Japan House, London, UK
Monday – Friday, 9.30am – 5pm (Free Admission)
*Special Frieze weekend opening: 19 – 20 October 2013 (10am – 5pm)
Private View:
17 September 2013, 6-8pm
Introduction by
Justin R. Merino,
Director, APT Institute
Talk :
15 October 2013, 6pm
With artists Kanako Sasaki, Tomoko Yoneda, and
Justin R. Merino, Director APT Institute
Koki Tanaka: Exchange One of Your Shoes With Someone |
Open Every Drawer as Quickly as Possible
2007, billboard installation
Coinciding with Frieze London Art Fair 2013 in neighbouring Regent's Park, Daiwa Anglo-Japanese Foundation and APT Institute are pleased to present the group exhibition Acting Out of Nothingness , featuring contemporary Japanese artists Kanako Sasaki, Koki Tanaka, Zon Ito, Goro Murayama, Motohiro Tomii, Masahiro Wada and Lyota Yagi. The exhibition will feature artworks lent by APT Institute from the Artist Pension Trust ® (APT) collection, the largest lending library of artwork by leading and emerging contemporary artists from around the world.
Acting Out of Nothingness unites individual views through the lens of a shared interest in the everyday. Driven by ideas resonant to Japanese culture, the artworks explore and unearth hidden codes, which are often overlooked, in an apparently systematic and homogenised society. Challenging traditional perceptions, the exhibition layers new rhythms of individuality over the measured cadence of the artists' collective backgrounds.
Booking information: Admission to the exhibition and related events is free but advance booking for the events is essential. Please make your reservation at http://www.dajf.org.uk/events/booking-form
Location :
Daiwa Foundation Japan House
13/14 Cornwall Terrace, London NW1 4QP
Tel. 020-7486-4348
Baker Street
About the Daiwa Anglo-Japanese Foundation
The Daiwa Anglo-Japanese Foundation is a UK charity supporting links between Britain and Japan. It carries out its work through three main activities: awarding scholarships; giving grants to individuals and institutional partners to encourage UK-Japan collaboration; and organising a series of seminars, book launches and exhibitions at the Foundation's headquarters in central London. The Foundation has provided substantial support for the arts in both countries since its inception, facilitating exhibitions, artist-in-residence schemes, tours, education programmes and the Daiwa Foundation Art Prize. For further details, please go to www.dajf.org.uk
About APT Institute
APT Institute is a non-profit organization founded in 2013 by the Artist Pension Trust ® in response to the needs among contemporary artists for global exposure and recognition of their artwork. Designed for curators, museums, and art organizations worldwide, Loans & Exhibitions facilitates loan requests and exhibition planning from the APT Collection; Art Concierge tailors art interactions between curators or other qualified art professionals and APT artists; and Global Connect arranges artist-in-residence programs, studios opportunities and artists networking exclusively for APT artists. For further details, please go to www.aptinstitute.org
This event is supported by Ayoama|Meguro . ( http://aoyamameguro.com/en )
For further press information or images please contact:
The Daiwa Anglo-Japanese Foundation
Shihoko Ogawa
APT Institute
Lidia Fabian
+44 2071931301